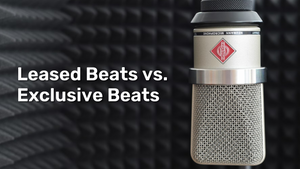 Why You Should Lease Beats Instead Of Buying Exclusive Rights (2022)
Why You Should Lease Beats Instead Of Buying Exclusive Rights (2022)
Why should rappers lease beats instead of buying the exclusive rights to them? What's the difference between lease and exclusive beats? While there are advantages to buying the exclusive rights to beats, it actually may be a better decision to lease them instead. In this article, we're going to break down why you should lease beats, the benefits of leasing beats, and when you may want to consider buying the exclusive rights.
Leasing Beats Saves You Money
In general, beat leases are less expensive than exclusive beats. On average, you can usually get an mp3 lease for between $20 - $30. Depending on who you're buying exclusive beats from, their prices can range from $200, $500, $1,000, or more. Even an unlimited use trackout license, which offers similar benefits to exclusive beats, are usually between $100 - $200. If you're an artist with a smaller budget, this is one of the strongest reasons why you should consider leasing your beats instead of buying them exclusively.
Artists have several expenses that they need to pay for such as mixing and mastering, music videos, photoshoots, and promotion. If you're a brand new artist who has little to no music out, you may want to lease your beats instead of buying them exclusively so you can allocate parts of your budget to these other expenses that are arguably more important at this stage.
Bulk Deals
Many producers who sell beat leases also offer bulk deals. Some examples of bulk deals are "Buy 2 Get 1 Free" or "Buy 3 Get 3 Free." This means that if you're making a project whether it's a 4 song EP or a 10 song album, if you find a producer who offers bulk deals for their lease licences, you'll be able to save even more money on beats for your album. So if you work with a producer like me who offers Buy 3 Get 2 Free, you can get an EP's worth of beats for less than the price that most producers charge for 1 exclusive beat. There are producers who offer bulk deals for exclusive beats as well, but they aren't as common. Working with a producer who offers bulk deals for beat leases is clutch for artists who want to save money on production.
Convenience
In many cases, leasing beats is relatively convenient in comparison to getting exclusive beats. Most producers who sell beats on their website have a player where you can stream and purchase their beats. They usually have their contracts available on their site as well. If you hear a beat that you like, you can purchase it, and after your payment goes through, you'll instantly have access to the files and can record over it immediately.
While there are producers who sell exclusive beats in a similar fashion where you can instantly purchase them, some may want you to contact them first before you make the purchase. Even though this is important so you can ensure that you're on the same page with the price and any legal agreements, this does add an extra step that simply purchasing a lease doesn't require. If you want to have access to high-quality beats as fast as possible, leased beats can be a more convenient option than exclusive beats.
Why Artists Should Buy Exclusive Beats
Even though beat leases are usually less expensive than exclusive beats, there are circumstances where artists should get exclusive beats. If you have a bigger budget and more experience as an artist, you may want to consider purchasing exclusive beats.
Ownership
While leasing beats is more affordable than exclusive beats, one thing you sacrifice is ownership. The producer will maintain the rights to the beat and can continue selling it to other artists. That means that you and several other artists might be using the same beat. While it's unlikely that your listeners care if you used the same beat as someone else or will even notice, that is a major turnoff for certain artists.
Also, depending on the terms of your lease, you may have to take down your song after exceeding a certain amount of streams. All you would have to do after that is contact the producer and renew your license. However, while this is irregular, if you purchase a lease license that only allow you to get a certain number of streams and then someone buys the exclusive rights to the beat, after you have exceeded your streaming limit, you will have to take your song down. To be clear, you're still legally entitled to the terms of your lease license agreement even if someone purchases the exclusive rights shortly after you purchase the lease, but some artists still view this as a major inconvenience. If that's too much of a deal breaker for you, you may want to spend that extra money on exclusive beats.
Custom Beats
One of the biggest limitations to leasing beats is that if you have a specific idea for a song you're working on, you're limited in how close you can get to it. For example, if you write a song and know exactly what melody you want the piano to play or if you have an unconventional rhythm idea for your drums, you're pretty much stuck with the beat as is. You will have more flexibility if you purchase the trackouts to a beat so you can arrange it how you want, but if you're not musically inclined, it may be difficult for you to get your melody to sound exactly as you want it.
If you work with a producer who offers custom beats, they can create a beat for you EXACTLY how you want it. If you want a beat with a hyperpop melody and rock drums that come in a minute into the song, rather than searching around for a beat that gets close enough to your idea, you can have a producer create this beat for you. And best of all, this beat will be just yours to use. If you're an artist who wants more control over their sound, have really specific ideas for how you want your beats to sound, and have the budget to pay a premium price, you may want to consider investing in custom/exclusive beats.
Should You Lease Beats?
If you're an artist who wants high-quality beats without having to spend an arm and a leg, you should consider leasing beats. Especially if you're a new artist who is still growing your fanbase, you can put that extra money towards mixing and mastering, music videos, and promotion, which arguably matter more than owning the rights to a beat at this stage.
If you don't like the idea of using the same beat that other artists have used, value ownership, or would prefer to have beats custom-made to perfectly fit the sound you're going for, you may want to consider purchasing exclusive beats. While exclusive beats are generally more expensive than leased beats, they come with their own set of benefits that may be valuable to where you're currently at in your music career.
Like with many things in life, leased beats and exclusive beats both come with their pros and cons. As long as you understand them and have a plan for your music career, you can't go wrong with either. Happy creating!
Looking For Beats?
Are you looking for beats? I have an extensive catalog of beats that are available to be leased. I also offer custom exclusive production as well. Contact me if you have any questions!
---